COVID 19 Special Instructions: scroll down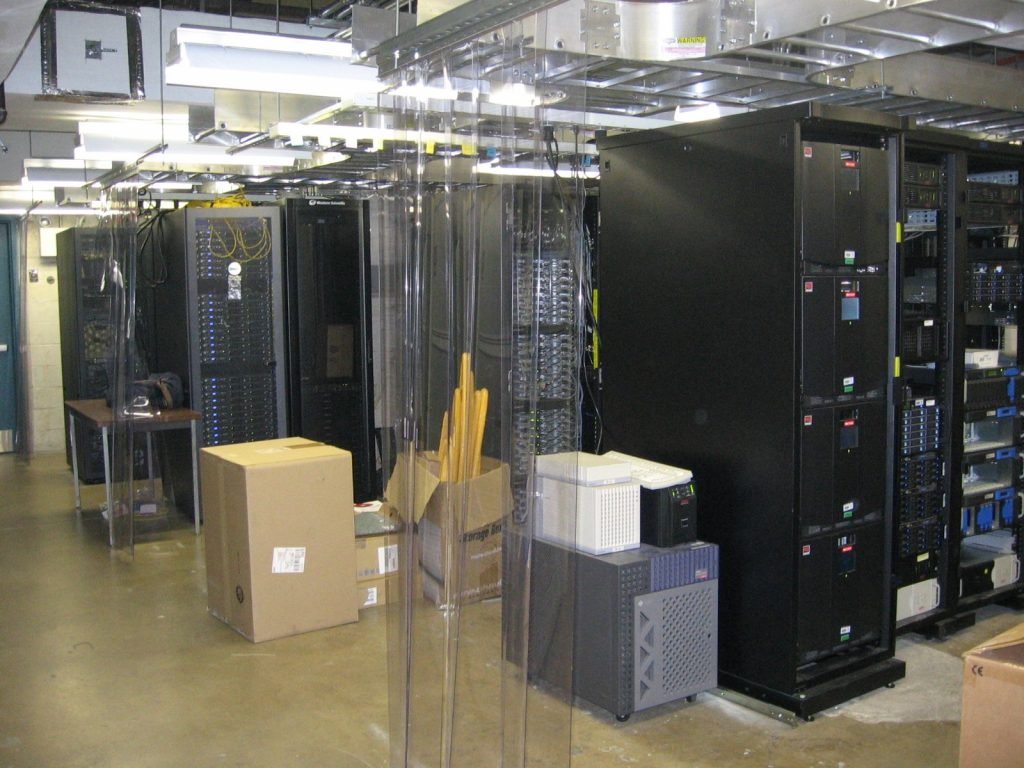 This data center is shared between the School of Engineering and Applied Sciences and the School of Arts and Sciences. The Franklin Building Annex (attached to the Franklin Building) is itself a shared space between multiple schools and centers. If you have a need for running loud or power hungry or heat-expelling servers, you can locate them in this data center. Faculty members may request access for themself and/or a limited set of technical representatives for their research group, from fba-hq@lists.seas.upenn.edu, describing your computational equipment needs (max power draw, plug types, sizes of equipment) and plans for expansion in the foreseeable future. The room is near capacity, so no guarantees can be made regarding timing or availability of rack space or power.
Each group is responsible for maintaining the health of their own equipment, ensuring their installation (including cabling, proper power utilization and heat dissipation, and general cleanliness around their equipment) does not create a hazard for any other tenant. You must provide up-to-date emergency contact information and your PennCard ID number, as well as an actively monitored Penn affiliated e-mail address for receiving data center announcements. All trash and recycling MUST be removed immediately so as not to create a fire hazard; trash and recycling carts are in the foyer between rooms P121 and P114. Make sure to pull doors shut tightly behind you as you leave.
Based on existing capacity, you will be directed to specific locations within one or more racks, instructions on which power receptacle(s) to use (or which power distribution units you will need to purchase), and a network feed depending on your parent organization (possibly including instructions on which network switch(es) you will need to purchase). There is not enough room to safely store packages prior to assembly within the data center, so your group will need to bring new equipment on site and install it immediately, and immediately dispose of packaging material.
COVID-19 Special Handling Information (UPDATED for July 1, 2021)
Registering Proof of Vaccination
Please refer to the University guidelines for Faculty, Postdocs, and Staff, or Student Health Services guidelines for Students, for more detailed information.
Updated Regulations
Systems administrators may visit the FBA data centers for any maintenance work that cannot be accomplished remotely, so long as they abide by the following updated regulations, as well as any other relevant University and School regulations.
1. Beginning on July 1, 2021, PennOpen Pass is no longer required to enter University buildings, for those who have registered their proof of vaccination according to University guidelines (see links above). All other FBA tenants must continue to complete their daily screening through PennOpen Pass.
2. FBA tenants who have not registered their proof of vaccination according to University guidelines (see links above) are still required to wear a face covering and observe physical distancing of three feet from other people. All FBA tenants are always welcome to wear a face covering.
3. FBA data center calendar reservations are no longer required (see below for caveat).
4. As always, eating and drinking are never permitted inside the data centers.
Simultaneous Occupancy Caveat
Without a coordinated schedule, there is a chance that you could end up in the data center at the same time as someone else who needs to work on an adjacent rack, which would make it impossible to maintain three feet of distance. In this hopefully rare situation, please be considerate and arrange to take turns or to re-schedule the work for an alternate time. Flexibility is really helpful in these times.
If you think you need an exception to any of the policies outlined above, please consult with your supervisor. Thank you for your ongoing efforts to keep our entire community safe!
Trash and Recycling Removal
If you have boxes that need to be removed to recycling or, other material that should go into the trash, please remove a small amount of trash at a time to the hallway, and then notify the building manager Chris Augustine by email (chrisaug@sas.upenn.edu) so that he can be sure that the housekeeping staff knows to take that trash away. By "small amount," we mean something on the order of four server boxes or its equivalent (or less). This may mean that it will take a couple of trips to get rid of all of your trash.
PennOpen Pass registration
Anybody who has not registered their proof of vaccination according to University guidelines (see links above) must use the PennOpen Pass system daily: https://pennopen.med.upenn.edu. FAQs for the PennOpen Pass system are here: https://www.pennmedicine.org/pennopen
COVID-19 special entrance rules
The card readers near the exterior doors of the Franklin Building Annex are disabled from 8AM – 5PM on weekdays. During those hours, you will need to gain access through the Franklin Building lobby (NOT Franklin Building Annex). Security will be checking your PennOpen Pass at the front desk. You can print it out, or use your phone to show the e-mail or text containing your pass for that day.
Outside of the hours of 8AM – 5PM on weekdays, and on weekends, the Franklin Building Annex external readers will revert back to standard access.
Getting from Franklin Building to FBA Data Centers
Take the elevator or stairwells to the second floor of Franklin Building. When you come out on the second floor, make a right and proceed to the end of that hallway – at this point you're in the Annex. Make a right or left, and use the stairs to return to the first floor of Franklin Building Annex, then proceed as usual to FBA P114 or P121.