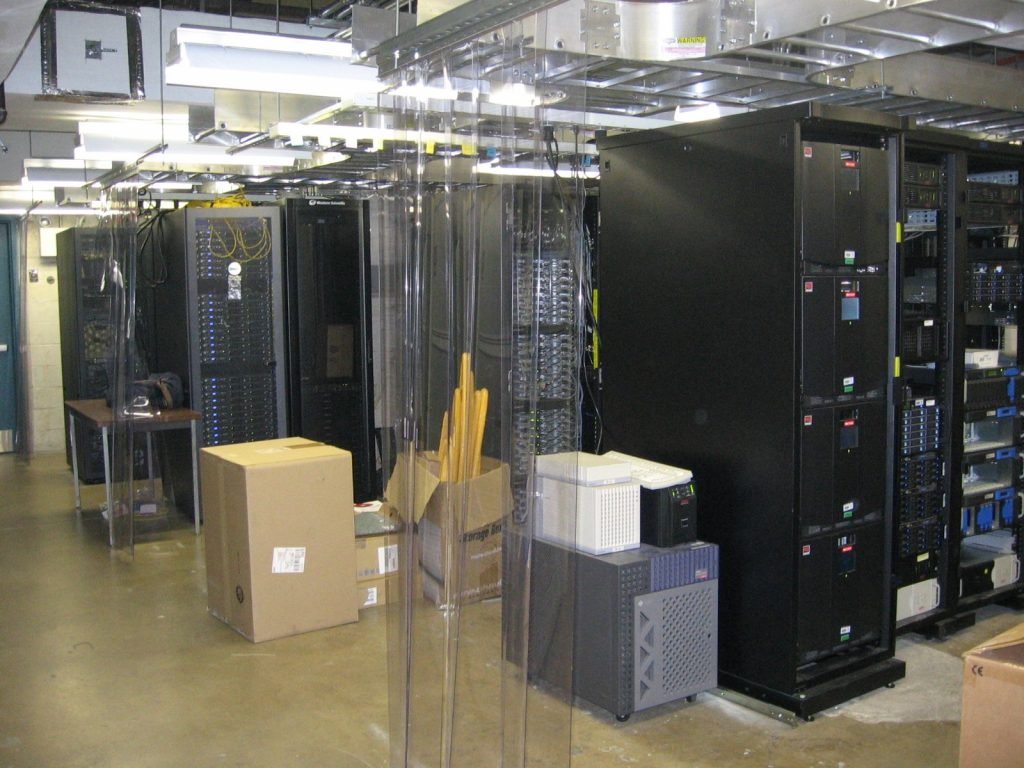 This data center is shared between the School of Engineering and Applied Sciences and the School of Arts and Sciences. The Franklin Building Annex (attached to the Franklin Building) is itself a shared space between multiple schools and centers. If you have a need for running loud or power hungry or heat-expelling servers, you can locate them in this data center. Faculty members may request access for themself and/or a limited set of technical representatives for their research group, from fba-hq@lists.seas.upenn.edu, describing your computational equipment needs (max power draw, plug types, sizes of equipment) and plans for expansion in the foreseeable future. The room is near capacity, so no guarantees can be made regarding timing or availability of rack space or power.
Each group is responsible for maintaining the health of their own equipment, ensuring their installation (including cabling, proper power utilization and heat dissipation, and general cleanliness around their equipment) does not create a hazard for any other tenant. You must provide up-to-date emergency contact information and your PennCard ID number, as well as an actively monitored Penn affiliated e-mail address for receiving data center announcements. All trash and recycling MUST be removed immediately so as not to create a fire hazard; trash and recycling carts are in the foyer between rooms P121 and P114. Make sure to pull doors shut tightly behind you as you leave.
Based on existing capacity, you will be directed to specific locations within one or more racks, instructions on which power receptacle(s) to use (or which power distribution units you will need to purchase), and a network feed depending on your parent organization (possibly including instructions on which network switch(es) you will need to purchase). There is not enough room to safely store packages prior to assembly within the data center, so your group will need to bring new equipment on site and install it immediately, and immediately dispose of packaging material.
Trash and Recycling Removal
If you have boxes that need to be removed to recycling or, other material that should go into the trash, please remove a small amount of trash at a time to the hallway, and then notify the building manager Chris Augustine by email (chrisaug@sas.upenn.edu) so that he can be sure that the housekeeping staff knows to take that trash away. By "small amount," we mean something on the order of four server boxes or its equivalent (or less). This may mean that it will take a couple of trips to get rid of all of your trash.
COVID-19 Special Handling Information (UPDATED for July 1, 2023)
We have returned to regular operations. Masking is optional.
As always, eating and drinking are never permitted inside the data centers.